Eskymos Cruise Past Jets To Earn 4th Straight Win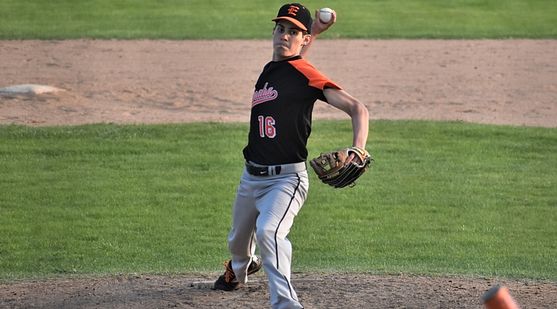 Click the thumbnails to see photos and videos, and click the audio buttons to listen to post-game interviews.

ESCANABA---The Escanaba High School baseball team beat the North Central Jets, 10-0, in a non-conference game Monday night at Al Ness Field.
The win was Escanaba's fourth straight, and it improved the Eskymo season record to 14-5 heading into a big Great Northern Conference game against the Kingsford Flivvers on Tuesday night. The win allowed the Eskymos to play a lot of younger players, after those guys also beat the Jets, 10-5, in a junior varsity game earlier on Monday.

The loss for the Jets, their 22nd all-time in 23 meetings with the Eskymos, dropped them to 14-5 heading into a Skyline Conference doubleheader at home Tuesday against the Stephenson Eagles.
Escanaba freshman pitcher Cannon Arnt threw all five innings of this mercy-shortened game, allowing only two hits and one walk, and striking out eight batters.

"Just keep throwing strikes, that's all I wanted to do," Arnt said. "I think the best was my cutter and my two-seamer was working better over my four-seam (fastball), so I just threw my two-seam the whole game."

"He's done nothing but throw strikes, and that's half the battle," Eskymo Manager Scott Hanson said. "For a freshman to come up here for his first (radio) interview was a really good deal, so good for him. I've got two really solid freshman pitchers in him and Lenny (Peacock). Part of it, too, is Chase (catcher, Cloutier) behind the plate."
NCA senior Jesse Sampson started strong with three straight strikeouts in the first inning, but ended up taking the loss, allowing ten runs on seven hits in four-plus innings of work. Connor Florenski, Jake Poquette, and Dylan Plunger all followed Sampson to the mound in the fifth inning before the Eskymos mercied the game with four runs in that inning, capped off by a pinch-hit RBI single to right field by freshman Ashton Rymkos.
Escanaba first baseman Bon LaChance led the hitting attack with two doubles, a single, two runs batted in, and three runs scored.

One of those runs came on a botched suicide squeeze attempt when Ben Johnson couldn't get his bat on the ball with LaChance on third base. LaChance, who is often courtesy-fun for when he gets on base, made it home, after he also stole third base earlier in the inning.

"I thought their kid was throwing well," Hanson said. "And Bon comes up and hits the ball like it's no big deal. Everybody else gets confidence from that. That was some really good momentum."

"I'm not really sure what he was throwing me," LaChance said. "They all looked the same speed. I don't know, it must be my night. Just sitting back on my back leg and waiting for it."

And what about his newfound baserunning prowess?

"Well, I get tired, so I don't care if I get ran for or not," LaChance laughed. "I was already too far (off of the bag at third) and Coach was yelling 'back", and I think the catcher thought I was going back, so just instincts. Little League baseball right there."
Nick Chiu had a nice game at the plate, with a two-run single in the third inning after narrowly missing a bunt single on what turned out to be a sacrifice after a nice play by Sampson off the mound. Trent Lawson added a single and double for Escanaba.
NCA's two base hits came by Andrew Webber in the fourth inning and by Poquette in the fifth. The Jets had a total of four baserunners in the game, with the others coming on a walk to Dalton Hancheck in the third inning and when Adrian Mercier was safe on an error in the fourth inning.

For Escanaba, what a difference a few days can make. Less than a week after an ugly loss in Marquette, the Eskymos are feeling good with four straight wins, chanting like girls softball players in the dugout, and seemingly, just having fun again.

"I like the energy of our team right now," Hanson said. "Something clicked, and I don't know what it is. It's not coaching. It's the kids. I've been fighting it all year that we've been quiet in the dugout. But we've been nothing but loud down there, and into the game, not just being loud. That makes the game a lot more fun and makes the game a lot more interesting. Everyone is feeding off that energy and we're playing good baseball right now."

MONDAY's OTHER U.P. BASEBALL SCORES
Kingsford 3, Marquette 0
Norway 11, North Dickinson 0, Game One
Norway 16, North Dickinson 0, Game Two
Houghton 14, Iron Mountain 11, Game One
Houghton 13, Iron Mountain 5, Game Two

MONDAY'S U.P. SOFTBALL SCORES
Escanaba 12, Marquette o, Game One
Escanaba 15, Marquette 0, Game Two
Kingsford 23, Ishpeming 9, Game One
Kingsford 20, Ishpeming 4, Game Two
Norway 11, North Dickinson 0, Game One
Norway 10, North Dickinson 5, Game Two
Westwoof 10, Iron Mountain 4, Game One
Westwood 15, Iron Mountain 10, Game Two