SOFTBALL SWEEP: Eskymos Beat Gladstone Twice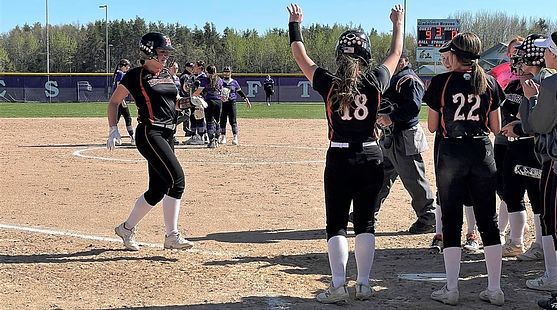 Click the thumbnails to see photos, videos taken by Amy Sundquist, and to listen to post-game comments from both coaches.

GLADSTONE---The Escanaba Eskymos softball team improved to 26-1-1 on the season after taking two games from the Gladstone Braves, 15-0 and 11-7, on a blustery day at the Gladstone High School fields Tuesday evening. It was a battle between two of the top teams in the state, with Escanaba ranked #2 in Division Two, and Gladstone, ranked #5 in Division Three.

The first game saw the Eskymos hit three home runs, with two of them by Carly McInerney and another by Harley Coolman. Grayson LaMarche was dominant in the circle, throwing all five innings in the mercy-shorted game, striking out eleven batters and allowing only one hit.

The second game got crazy down the stretch with both teams making errors as the temperature dropped and the sun went down. That game went to extra innings, before McKayla Mott smacked a two-run single to left field to break a 7-7 tie in the top of the eighth inning.

"We were lucky to pull out that second game," Escanaba Manager Andy Fields said. "I thought that we just didn't play well. We weren't focused. We got sloppy, but we took advantage of Gladstone's mistakes as well, and the girls executed their bunts. I think that was the key to the game."

"There was plays to be made for us, and we didn't," Gladstone Manager Rick Pepin said. "That kind of determined the outcome of the game."

That second game was a 1-1 thriller heading into the fifth inning, before the Eskymos scorfed three runs to take a 4-1 lead. But Coolman, batting in the nine hole, smoked a triple to jumpstart the attack, and she scored on a pop up by McInerney that was well in foul ground, but was blown back into fair territory by the gale-force winds. Paxton Bullen and Mott both executed bunts that the Braves couldn't handle, and the error scored two runs.

Gladstone still trailed, 4-1, in the bottom of the sixth inning, when Addie Trombley was safe on an error to start the inning. Then Tia Schone ripped a double to left field, and Montogomery Pepin was hit by a pitch to load the bases. Reese Herioux was also hit by a pitch to force home a run, then with two out, Allie Larson came through with a clutch two-run single to right field.

That tied the game at 4-4, but with two on in scoring positrion, Lu Martinez grounded out.

Escanaba came right back in the top of the seventh, with two singles and a walk loading the bases and Isy Brun coming through with a two-run single to right field. Coolman followed with another base hit, making it a 7-4 game heading into the bottom of the inning.

Gladstone came back again. With one out, Addie Trombley singled, Schone was hit by a pitch, and with two out, Herioux hit one that went through the shortstop's legs into left field. That scored two runs to make it 7-6. Then Sam Drielick hit one to short, and that one was fielded cleanly, but the throw was wild to first base, allowing the tying run to score.

In the eighth inning, though, rhe Eskymos got busy with four straight hits to start the inning, with Mott's sharply-hit double to left field scoring two runs. LaMarche followed with an RBI single, and Anna Boutilier's grounder brought home another Eskymo run.

Maddie Mott worked a 1-2-3 bottom of the eighth inning to seal the Escanaba win.

The first game did not have any suspense, as the Eskymos scored two runs in the first inning and added two more in the second on McInerney's first two-run homer. Then in the third inning, Escanaba scored seven times, with Coolman launching a three-run homer and McInerney following with a solo home run. The game ended up being mercied, with Gladstone ace Montgomery Pepin taking the loss in the circle.

"It was a real tough day," Rick Pepin said of the Braves performance. "They hit Gummy (his daughter) really well today, but we just didn't compete. We didn't compete from the very first pitch of the game. It was almost like we gave up. But kudos to our kids for coming back and competing in the second game and pushing it into extra innings. That's what we wanted to see."

Gladstone fell to 13-6 on the season after their third straight loss to Escanaba. All six of the Braves losses have come to state-ranked teams (Gaylord, Richmond, Unionville-Sebawaing) in addition to those three losses to the Eskymos.

Escanaba improved to 26-1-1, with their only loss coming to top-ranked Gaylord, who they will likely face in the districts in two weeks downstate.

"We're playing our best ball right now," Fields said. "Every coach in the State of Michigan wants, right now, to be playing their best ball."

Escanaba travels to Canton to play in a big tournament this weekend, facing large schools Waterford Kettering, Orchard Lake St. Mary's, and Milan. And if they win, they could have three more games during that weekend showcase.

"It's gonna be fun," Fields said. "We get to see some Division One opponents, different teams that we don't see."

Gladstone will be home this weekend, welcoming Charlevoix and Grass Lake to town for games Friday and Saturday.

"Some ranked teams, and we get to show off our complex here," Pepin said. "We're excited about it. Hopefully, the weather cooperates."


TUESDAY'S OTHER U.P. SOFTBALL SCORES
Negaunee Miners 15, Kingsford Flivvers 11, Game One
Negaunee Miners 24, Kingsford Flivvers 4, Game Two
Calumet Copper Kings 15, Westwood Patriots 7, Game One
Westwood Patriots 15, Calumet Copper Kings 9, Game Two
Norway Knights 15, Forest Park Trojans 0, Game One
Norway Knights 18, Forest Park Trojans 8, Game Two
Menominee Maroons 10, Wausaukee 7

TUESDAY'S U.P. BASEBALL SCORES
Escanaba Eskymos 3, Kingsford Flivvers 2. Walk-off base hit by Bon LaChance in the bottom of the seventh inning.

Gladstone Braves 15, Menominee Maroons 4...Gavin Frossard single, double, and win on the mound.

Norway Knights 6, Iron Mountain Mountaineers 0---Alex Ortman threw six innings of one-hit ball for the Knights.
Bark River-Harris Broncos 15, North Dickinson Nordics 0, Game One
Bark River-Harris Broncos 9, North Dickinson Nordics 3, Game Two
North Central Jets 10, Stephenson Eagles 0, Game One
North Central Jets 15, Stephenson Eagles 5, Game Two

---MORE---