DIRTY WIN: Braves Coast Past Maroons In Opener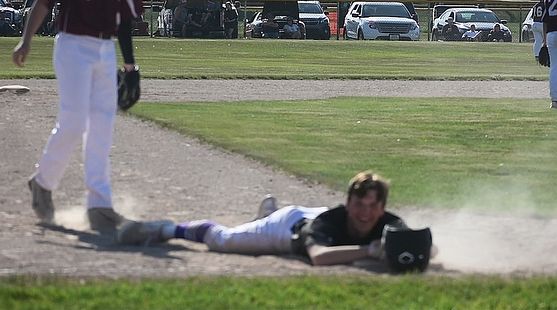 Click the thumbnails to see videos taken by Amy Sundquist, and to hear post-game comments from Tyler Darmogray, Braden Sundquist, and Manager Joe Darmogray.

GLADSTONE---Can a mouth and throat full of dirt help to build team unity at the most important time of the year for a high school baseball team?
Maybe, maybe not. But Tyler Darmogray's very comical head-first slide into third base on the bone dry Don Olsen Field Tuesday evening might just be one more piece in the puzzle as the Gladstone Braves look to make a long playoff run during the MHSAA tournaments.
Darmogray's slide was pretty much the topic conversation after the game as the Gladstone Braves beat the Menominee Maroons, 13-3, in the opening round of the MHSAA district tournament.
The play itself was insignificant. It happened with the score already 12-0. But it showed just how loose the Braves are as the post-season swings into high gear.
"Well, we're going for runs, so I might as well," Darmogray laughed. "It's a district game. It was pure dirt in my mouth. I literally couldn't swallow. It felt like it all went down my throat!"
And then the bottle of water they brought to him had a crack in the bottom, so most of it went onto the ground.
"It was definitely interesting," fellow Braves senior Braden Sundquist said. "I was questioning the call of going to third, but he good a good enough jump on it. The late slide just topped it off!"
"I wasn't gonna slide," Darmogray said. "My dad (Manager Joe Darmogray) said 'get down!', so I just, plop!"
"He blames it on me, that's the worst part," Joe Darmogray said. "I said, I didn't tell you to slide five feet (in front of third base)! But he got to the bag."
Reaction to plays like that can show where a team is heading, and the Braves seem to be having fun together as they open a tournament run on their home field.
"The kids had me a little nervous watching warm-ups," Coach Damogray said. "And after warm-ups they were kind of sitting like bumps on a log in the dugout. I was thinking to myself, oh boy, here we go. But, I told them, okay, we are the away team, let's go out there and get some runs right away."

They did. The Braves scored nine runs in the top of the first inning, helped a long by a bunch of walks and errors. Brennon Detiege had a two-run double, Sundquist added a RBI double, and Noah Peterson and Isaac Ketchum both had sacrifice flies.
That was more than enough run support for Sundquist, who allowed only two hits in four innings (both by Menominee lead-off man Aiden Sevon) and one unearned run.
The Maroons scored twice in the fifth inning against Braves reliever Gavin Frossard, who struck out Menominee senor Kaieen Calcari with the bases loaded to prevent the game from being extended into a sixth inning.
"I thought we did pretty good today," Tyler Darmogray said. "We hit the ball pretty good. We didn't make any errors on defense. And our base running was pretty smart today. So I think it was pretty good."
"Same approach as normal," Sundquist said of his pitching plan. "Made sure I hydrated well because I knew it was gonna be warm. I got some good throwing in yesterday and made sure I didn't sleep in too long today and get tired."
Menominee, with a line-up filled with freshmen, finished its season with a 2-17 record.
Gladstone, meanwhile, improved to 15-6 on the season, and will host the Manistique Emeralds in the district semifinals Friday afternoon. The Emeralds are 14-10 on the season after winning two regular season games on Tuesday, 11-1 and 13-3 over Newberry.
"We're looking forward to it," Coach Darmogray said. "Obviously, we only saw them the one time (a 9-3 win on April 26). I told them, though: Don't take them lightly. We've got to come out, score some runs, hit the ball, play defensively well, and you know, just one game at a time."
The game starts at 1:00 Friday and will be broadcast live on FM-93.5 and AM-600 in Gladstone, and on FM-98.5 and AM-1490 in Manistique. Also on-line at www.rrnsports.com.

OTHER U.P. BASEBALL PLAYOFF SCORES
NORTH CENTRAL 15, STEPHENSON 0---Jesse Sampson had a single, two doubles and a triple for the Jets. Adrian Mercier threw the shortened shutout on the mound.

NORWAY 15, NORTH DICKINSON 0---Alex Ortman had two hits and four runs batted in for the Knights. The Nordics had just one base hit and struck out 12 times.

BASEBALL REGULAR SEASON SCORES

SUPERIOR CENTRAL 1, BARK RIVER-HARRIS 0---Blake Walther and Trent Rutter combined to throw the shutout. Lucas Hall takes the tough loss. Lucas Kanerva base hit in the second inning brought in the only run.

NEGAUNEE 11, IRON MOUNTAIN 6 GAME ONE
NEGAUNEE 9, IRON MOUNTAIN 4 GAME TWO
MANISTIQUE 11 NEWBERRY 1 GAME ONE
MANISTIQUE 13 NEWBERRY 3 GAME TWO