Flivvers Win; Marquette's Luke Gets Hole-In-One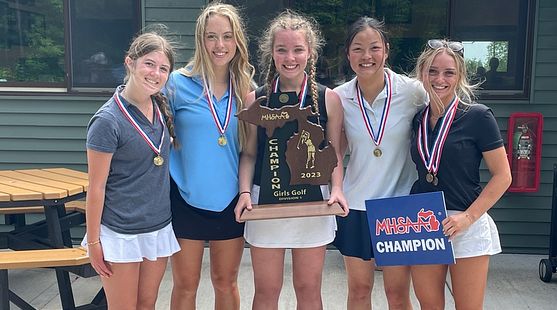 Click the thmbnails to see photos and videos, and hear interviews.

HARRIS, Mich.---There's a first time for everything.
That old saying was certainly proved true Wednesday afternoon at the MHSAA Division One girls golf Upper Peninsula Finals at the steamy Sage Run Golf Course.
The firsts? A U.P. Championship for Kingsford High School, and a hole-in-one for Marquette High School junior Abigail Luke.
The Flivvers took home the trophy for the first time in school history by topping the leaderboard with 412 strokes, seven clear of second place Escanaba (419), and 22 ahead of third place Negaunee (434).
A dream come true, says junior Bryonna Sanders, who was individual runner-up shooting a 99.
"It feels pretty awesome," Sanders said. "We came out here yesterday (for practice) and we put out a full effort. I think with out ream spirit and pushing each other, we did pretty well. I didn't really have a game plan, but I went off with my nine-hybrid on every hole, but my driver wasn't hitting it today. Just have to wing it, and golf does its thing!"
Another first: that hole-in-one for Luke midway through the front nine.
"It's crazy," Luke said. "I was really upset about my last couple holes, but then I made a hole-in-one! It was just tears of joy. I haven't done it before. I was 99 yards away, and so I took my 50-degree (club) which I knew could go 95. And then I rolled it in. I could see it right from where I was! I was speechless when it happened."
Luke ended up shooting a 101, which was tied for fourth with Escanaba freshman Kamrie Scott. Eskymo senior Sierra Scott was one stroke further back at 102.
The medalist was Negaunee High School senior Rachel Niskanen, but she wasn't thrilled about her victory, even though she won by seven strokes over Sanders after firing a 92. Niskanen has routinely shot in the 70's and 80's all spring long.
"Honestly, it was a really rough day out there for me," Niskanen said. "I was having a hard time hitting my irons, and it was probably one of the worst rounds of my whole spring season. But, I mean, a win's a win, I guess! I had a lot of fun with Negaunee Golf. They do a really good job, putting on tournaments. Overall, I shot pretty well this season, mostly pars and birdies. But today was just a rough day."
Kingsford had three of the top ten finishers, with Grace Maki (T-6, 102) and Ella Rizzo (T-10, 105) joining Sanders on the top of the leaderboard. In all, there were 47 golfers from nine different schools in the event, which took roughly five-and-a-half hours.
Marquette finished fourth, followed by Menominee, Calumet, Sault Ste. Marie, Houghton, and Westwood.